http://en.wikipedia....thquake#Geology

The 1999 İzmit earthquake was a 7.6 magnitude earthquake that struck northwestern Turkey on August 17, 1999,
at about 3:01am local time.The event lasted for 37 seconds, killing around 17 thousand peopleand leaving approximately
half a million people homeless

The earthquake had a rupture length of 150 kilometers (93 miles) extending from the city of Düzce all the way into
the Sea of Marmara along the Gulf of İzmit. Offsets along the rupture were as large as 5.7 meters (18.7 ft)

The earthquake caused a tsunami in the Sea of Marmara that was about 3 meters high.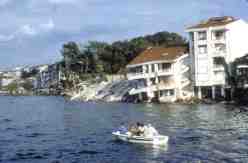 Marmara earthquake marks its 10th anniversary
Friday, August 14, 2009


ISTANBUL – Hürriyet Daily News
An extensive series on 1999 Marmara Earthquake will provide a wide range of information
for Hürriyet Daily News & Economic Review readers on what has happened since August 17.
Meanwhile, in an earthquake conference that started Friday, authorities tell the preparations
for the possible major Istanbul earthquake


While Turkey prepares to commemorate the 10th anniversary of the 1999 Marmara earthquake on Monday,
the man in charge of managing disasters in the country said Turkey is now one of the most capable
countries in handling natural disasters.

This is one of those statements you've got to laugh at to keep from crying.


More than 17,000 people died according to the official data...

Having lost four relatives (two of whom were children) under the rubble and
having seen the disaster with my own eyes, I can say the number was much bigger. Probably around 40.000.

The officials who gave licence to poorly built houses are as guilty as those who built them.

The North Anatolian Fault Line is a very active line and another major earthquake
is on its way, most likely to hit Istanbul, where hundreds of licenced/unlicenced
constructions are built everyday.

After ten long years, very little has changed, if any.